GSC everywhere
Live life on the go?
We can keep you connected to your benefits – at any time, from everywhere.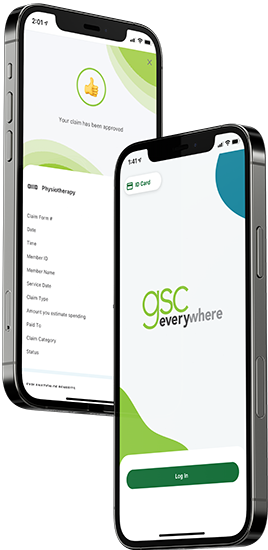 Your Health Assist plan includes access to GSC everywhere, the free app that is designed and available exclusively for GSC customers. It gives you 24/7 mobile access to your health insurance plan, it's convenient, quick and easy to use.
With GSC everywhere, you'll get all these online services:
Submit claims directly from your smartphone or tablet – Enter your claim details or upload your claim (by simply taking a picture with your smartphone) and we'll take it from there. No need to send us anything in the mail.
Access the status of your claims in real-time. You'll know instantly when we've received and processed your claim. And you can conveniently filter your claims history.
Get your money back faster. Sign up for direct deposit – the most convenient and efficient way to receive your payment.
Get instant confirmation of your eligibility for health care expenses and coverage amounts.
Find GSC-approved health care providers near you.
Check and track the benefit balance on your Health Assist insurance plan.
Use your electronic all-in-one benefits and travel ID card. (Your wallet will thank you.)